Sound Service MSL Distribution Ltd
Distributor of high quality solutions for 21st century music creation, production, recording, live performance and broadcast
JoeCo Limited. Manufacturer of the Blackbox Recorder, Blackbox Player and the new Bluebox range. The Blackbox offer a professional solution to record/replay of multichannel audio without using a computer. JoeCo innovation continues. The BlueBox include audio interface capability with full redundancy recording to the JoeCo and a computer at the same time. These Recorders are successfully used in live performance, broadcast, film and TV sound and post production. JoeCo products can interface with analog, MADI, Dante, AES and ADAT. The popular Player is designed for replaying backing tracks and multiple surround stems for live shows and themed entertainment. Multiple units can be linked for large track counts and market leading full redundancy backup for live applications.
Markaudio is the division of Mark World dedicated to producing the finest professional audio sound reinforcement for bands, events and tours, in bars, clubs, theatres, education and houses of worship.
Building on the strong reputation built up over many years by their industry-leading brands Markbass and DV Mark, Markaudio boasts the same high standards of innovation and engineering.  The result is groundbreaking sound quality with impressive power, in two system formats which are both innovative in design and versatile in range of their application. A punchy, warm and detailed sound that lets the audience hear your music at its absolute best.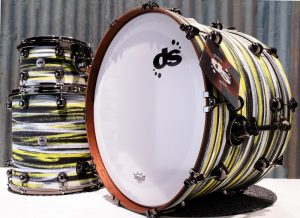 When it comes to buying a custom-made drum it's a bit like buying a tailored suit. DS Drum offers a product to the musician that is tailored to their individual needs and requirements in tone, performance and finish, and is different from the rest.  It must fully satisfy the high construction characteristics required and satisfy the professionals too because this is a working tool.  The instrument must be solid, it must sound good, be easy to tune and it must be robust. The drummer has to be able to rely on his DS Drum kit, sit there and sound good, because our philosophy is to offer a sound and a balance that is of a single musical instrument.

This highly respected Italian manufacturer recently celebrated its 15th Anniversary and continues to grow and innovate for the demands of bass players worldwide.
MarkBass specialises in the development of high-quality amp heads, preamps and power amps, cabinets, combos, effects pedals and accessories for bass players. Made from premium quality components and using the proprietary MPT (Mark Proprietary Technology) power amp technology, Markbass products combine powerful sound with lightweight construction, making them the first choice of bass players worldwide, including greats such as Marcus Miller, Michael League, Randy Jackson and Richard Bona.  This is the latest addition to the range, the absolutely stunning new Alain Caron K1 combo.
Rock n' roll scientists making world class software for audio professionals and musicians.
Softube develops both hardware and software for the audio industry. Including  a wide range of high-end computer recording plug-ins under its own  respected Softube brand. The company has also developed the award winning Mixer hardware called Console one which ships with SSL licenced emulations of the SSL 4000E . Console One is now available in its Mk2 incarnation. The Company also develops software for many respected Pro Audio companies including Universal Audio, Marshall, Fender, Abbey Road Studios, Native Instruments, Ableton, TC Electronics and others.
Manufactured in Italy and used by some of the world's leading keyboard artists, Studiologic products are renowned for their weighted key and hammer action technologies that authentically imitate the action of traditional pianos and organs. The brand combines amazing playability with state-of-the-art DSP and integration technology, offering musicians a range of possibilities for live performance and studio use. The Studiologic catalogue is available here. The series currently includes a range of premium controller keyboards including the ground breaking SL line, and instruments such as Numa pianos, organ and Sledge synthesizer.
Specially designed for guitarists, the DV Mark brand offers powerful yet lightweight amplification technology.
With the amazing Multiamp modelling amp and a range of solid state and valve heads and combos, cabinets, pedals and accessories. Made from high-quality components and using the proprietary MPT (Mark Proprietary Technology) power amp technology, DV Mark products are optimised to respond to the needs of the musician, while delivering top-quality sound to the audience.  DV Mark is the choice of many guitarists including legends such as Frank Gambale, Greg Howe, Kiko Loureiro, Eric Gales and Fredrik Thordendal.
Founded in 1981 in Hollywood, California. Studio Electronics have been proudly manufacturing American-made premium quality analog synths and Class-A audio gear for over 30 years. The company's legendary product range includes the BoomStar desktop discrete analogue synth range, the Slate Pro Audio Dragon and Fox, along with the Discrete Sound Engine Analog Synths™ ATC-X(I), Omega 8, C.O.D.E, and classic SE-1X: Their products can be found in the arsenals of leading electronic musicians the world over, including some of the biggest names in Pop, R&B, Rock, Dance/EDM and Film scoring. Studio Electronics continue to develop new additional products, and have applied their many years expertise to recently introduce Modstar, a highly respected full Modular Analog synthesiser system which currently includes over 20 modules, such as Tonestar, Grainy Clampit, Circles and others.

Specially designed for use with a broad range of acoustic instruments, their impressive musical clarity and tonal flexibility make the ideal amp for a wide from acoustic guitar to acoustic bass, harp, cello, accordion, mandolin, violin, banjo and of course the human voice!
The Mark Acoustic AC 801p and AC101h have been designed to include all the features acoustic musicians need and ready to become a new standard for acoustic players in need of small, ultra-compact, very-portable combos with a clean, warm and defined sound to deliver the true essence of their performance.
Media
Check out the latest product videos 
Sound Service MSL Distribution Ltd
Wyvols Court Business Centre,
Swallowfield, Reading,
Berkshire.  RG7 1WY
0207 118 0133